Eén klein detail in de kleding van de man (of vrouw) kan een groot verschil maken. Misschien ben jij zo iemand die er niet te veel bij nadenkt en gewoon maar eentje voor alle gelegenheden gebruikt, maar sommige mannen hebben wel een heel rek vol hangen. Stropdassen, je kunt er maar niet genoeg van hebben, toch? Als jij zo'n iemand bent die er maar één hebt voor alle gelegenheden, denk er dan even over na om er misschien nog een paar aan te schaffen na het lezen van dit artikel.
Verschillende gelegenheden
Het lijkt mij dat je anders gekleed gaat naar verschillende gelegenheden. Waarschijnlijk heb je iets vrolijks aan naar een feestje, terwijl je naar een vergadering heel net gekleed komt. Waarom zou je dan bij allebei deze gelegenheden dezelfde stropdas omdoen? Het is toch grappig om bijvoorbeeld een feestelijke of misschien wel een of andere gekke stropdas om te doen naar een feestje. Als je dan toch al overal een pak of overhemd naar toe draagt dan is het toch leuk om het af en toe een beetje af te wisselen? Wat meer kleur, wat minder kleur, een leuk patroontje, of een grappig plaatje. Niet alles hoeft heel serieus te zijn toch?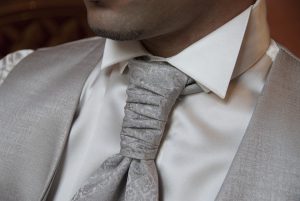 Er zijn zoveel keuzes
Waarschijnlijk zijn er meer soorten stropdassen dan dat jij in je hele leven lang zou kunnen dragen. Als je iedere dag een andere stropdas draagt heb je nog niet alle patroontjes en kleurtjes gehad. Dus waarom zou je er dan maar voor één kiezen? Zelfs al neem je er maar twee extra bij, het is alsnog iets om af en toe een beetje af te kunnen wisselen, het is toch ook saai om altijd maar hetzelfde aan te hebben? En dat geldt dan toch ook voor zo'n klein detail als een stropdas. Het is verfrissend om eens wat nieuws te hebben, en het is nog leuk ook.
Het is professioneel
Daarnaast komt het ook nog eens professioneel over als jij onderscheid maakt tussen de nette gelegenheden en de minder nette gelegenheden. Als je overal maar hetzelfde gekleed komt zal het niet meer zo bijzonder overkomen. En dan maakt zelfs zo'n klein detail als een stropdas wel een groot verschil. Je hoeft echt niet een hele kast vol te gaan hangen nadat je dit gelezen hebt, maar misschien wil je toch wel een paar nieuwe aankopen doen. Het kan toch geen kwaad om af en toe eens wat verschil te hebben? Zou houden we het leuk.